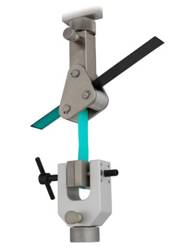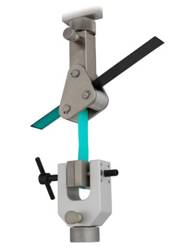 BS EN 1464 Test Fikstürü
BS EN 1464 specifies a floating roller method for the determination of the peel resistance of adhesive bonds between one rigid adherend and one flexible adherend
when tested under specified conditions of preparation and testing.
Bilgi Almak İçin Lütfen Bizimle 

İletişime

 Geçiniz 
Açıklama
TEKNİK ÖZELLİKLER
Açıklama
BS EN 1464  – Adhesives Determination of Peel Resistance of Adhesive Bonds – Floating Roller Method.
BS EN 1464 specifies a floating roller method for the determination of the peel resistance of adhesive bonds between one rigid adherend and one flexible adherend
when tested under specified conditions of preparation and testing.
The use the floating roller produces more constant numerical data than other peel methods, but it should no be expected that the flexible adherend will conform
to the surface of the roller.
---
Apparatus
Tensile testing machine
It is capable of maintaining a pre-determined constant crosshead rate to be reported in the test report (preferred rate: 100 mm/mm).
It shall be provided with a suitable self-aligning grip to hold the test specimen.
The jaws of this grip shall firmly engage the outer 25 mm of the end of the flexible adherend.
The grip and attachments shall be so constructed that they will move into alignment with the test specimen as soon as the force is applied, so that the flexible
member of the test specimen will coincide with the direction of the applied pull through the centre line of the grip assembly.
The machine shall be autographic, giving a chart that can be read in terms of millimetres of crosshead movement as one coordinate and applied force as
the other coordinate.
All equipment shall be calibrated regularly. It is recommended that equipment should be essentially free of inertial forces during use.
The machine shall permit the measurement and recording of the applied force with an accuracy of ± 1 %.
---
Peel test fixture, for supporting the test specimen . The fixture shall be attached to one of the cross-arms of testing machine
The 25 mm diameter rollers on the test fixture shall roll freely.
The angle determined by the rollers and the use of dual roller bearings are critical and the rollers shall therefore be carefully maintained.
*** Before conducting BS EN 1464 , it is important to read the entire specification. Standards can be obtained from appropriate standard authorities.
***PARSROS  offers several types of grips and fixtures which will enable you to perform a variety of tests 
that are accurate and repeatable.