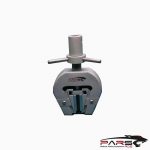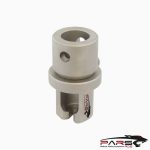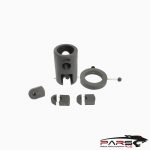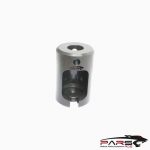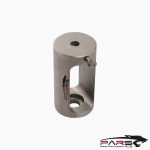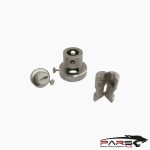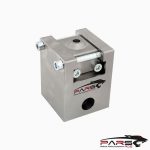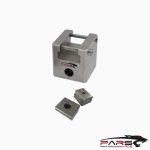 ASTM E8 – Tension Testing of Metallic Materials
ASTM E8 – This test method covers the tension testing of metallic materials in any form at room temperature, specifically, the methods of determination of
yield strength, yield point elongation, tensile strength, elongation, and reduction of area.
Bilgi Almak İçin Lütfen Bizimle İletişime Geçiniz 
Kategoriler: ASTM
Etiketler: ASTM E8.Çekme Çeneleri, Çekme Çeneleri, Çekme Cihazı Çeneleri, Çekme Test Aparatları Çekme Koparma Cihazı, Hidrolik Çekme Test Makinası, Hidrolik Çelik Çekme Test Cihazı, Laboratuvar Deneyleri, Laboratuvar Test Cihazları, Metal Çekme Test Cihazı, Metal Çekme Testleri, Metallerde Çekme Deneyleri, shoulder grip, Üniversal Çekme Test Cihazları, V tipi Çekme Çenesi, Wedge Grips
Açıklama
teknik özellikler
Açıklama
ASTM E8 – Standard Test Methods for Tension Testing of Metallic Materials
ASTM E8 – Metal Tensile Testing Grips
ASTM E8 – This test method covers the tension testing of metallic materials in any form at room temperature, specifically, the methods of determination of
yield strength, yield point elongation, tensile strength, elongation, and reduction of area.
The gauge lengths for most round specimens are required to be 4D for E8 and 5D for E8M.
The gauge length is the most significant difference between E8 and E8M test specimens.
Test specimens made from powder metallurgy (P/M) materials are exempt from this requirement by industry-wide agreement to keep the pressing of the material
to a specific projected area and density.
Exceptions to the provisions of these test methods may need to be made in individual specifications or test methods for a particular material.
For examples, see Test Methods and Definitions A370 and Test Methods B557, and B557M.
Room temperature shall be considered to be 10 to 38°C [50 to 100°F] unless otherwise specified
ASTM E8 is one of the oldest and most popular tensile tests.
Metals were one of the first materials tested for applications involving the prevention of boiler explosions.
Andrew Carnegie created his fortune because the tensile strength of steel is stronger than iron.
Specified under E8 are numerous calculations and additional measurements such as Poisson's Ratio which requires transverse strain measurements.
---
Solution
Grips and fixtures for E8 can vary. For round samples, the end could be butted(square), rounded(tapered), or threaded.
A split collar can be used for the butted ends and a wedge grip with serrated V inserts can be used for the rounded ends.
​The shoulder grip with exchangeable inserts is the ideal fixture setup for testing to ASTM E8.
The fixture is designed to test button head style specimens, the same as shown in the virtualization to the left.
Flat samples are different and are usually held with wedge grips with serrated inserts.
Samples with flat shoulders may also be fixed with a clevis pin if a hole is drilled through the specimen.
---
Referenced Documents
ASTM Standards
ASTM A356/A356M Specification for Steel Castings, Carbon, Low Alloy, and Stainless Steel, Heavy-Walled for Steam Turbines
ASTM A370 Test Methods and Definitions for Mechanical Testing of Steel Products
ASTM B557 Test Methods for Tension Testing Wrought and Cast Aluminum- and Magnesium-Alloy Products
ASTM B557M Test Methods for Tension Testing Wrought and Cast Aluminum- and Magnesium-Alloy Products (Metric)
ASTM D1566 Terminology Relating to Rubber
ASTM E4 Practices for Force Verification of Testing Machines
ASTM E6 Terminology Relating to Methods of Mechanical Testing
ASTM E29 Practice for Using Significant Digits in Test Data to Determine Conformance with Specifications
ASTM E83 Practice for Verification and Classification of Extensometer Systems
ASTM E345 Test Methods of Tension Testing of Metallic Foil
ASTM E691 Practice for Conducting an Interlaboratory Study to Determine the Precision of a Test Method
ASTM E1012 Practice for Verification of Testing Frame and Specimen Alignment Under Tensile and Compressive Axial Force Application
ASTM E1856 Guide for Evaluating Computerized Data Acquisition Systems Used to Acquire Data from Universal Testing Machines
ASTM E2658 Practices for Verification of Speed for Material Testing Machines
***PARSROS  offers several types of grips and fixtures which will enable you to perform a variety of tests  that are
accurate and repeatable.
Teknik Detaylar İçin Lütfen Bizimle İletişime Geçiniz 
Please contact with our engineers so that we can find and offer  Best Universal Tensile Test Machines , Grips , Jaws and Other Accessories for your operations