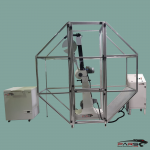 Charpy Izod Impact Testers
STANDARDS : ASTM E 23; EN ISO 148, GOST 9454; AS 1544; JIS Z 2242,B 7722
ASTM E23 Standard Test Methods for Notched Bar Impact Testing of Metallic Materials EN ISO 148 Metallic Materials – Charpy Pendulum Impact Test
Please Contact With Us For More Information
Description
Reviews (0)
TECHNICAL SPECIFICATIONS
Description
Charpy Izod Impact Testers
STANDARDS : ASTM E 23; EN ISO 148, GOST 9454; AS 1544; JIS Z 2242,B 7722
ASTM E23 Standard Test Methods for Notched Bar Impact Testing of Metallic Materials
EN ISO 148 Metallic Materials – Charpy Pendulum Impact Test
Fixtures/strikers are available for each test standard
Impact test determines the amount of energy absorbed by a material during fracture.
This absorbed energy is a measure of a given material's toughness and acts as a tool to study temperature-dependent nature of brittle-ductile transition
PARSROS motorized pendulum impact testers are fully automated and high performance devices which are ideal for testing metals according to Charpy and Izod
standards up to capacities of 450J.
U-type pendulums are suspended on a sturdy steel pedestal which is designed to be attached to a concrete base or a strong floor.
Pendulum is driven by an electric motor and an electromagnetic clutch system.
The fall of the pendulum is initiated with a latch mechanism so that the fall is sudden and unaffected from any friction losses.
After the test, the pendulum is automatically captured and returned to the starting position.
Angle, therefore position readings of the pendulum are done by a rotary encoder and the data is processed by a colored touch screen control unit to display
absorbed energy values.
PARSROS Charpy Izod Impact Testers can run with both user command and door triggered modes and in both modes the automation of the device together
with the safety cabin is designed to prevent any unforeseen accidents and user injuries.
Door triggered testing mode enables the fast and continuous testing for temperature sensitive tests and user command mode provides for more control for the
operator.
Heat treated anvils and the striker are replaceable for both to be changed because wear caused by the long term use and to allow 8 mm radius striker to be
mounted on the pendulum.
Typical field of use: Universities, laboratories of the institutions, automotive and aero companies, R&D Labs, steel manufacturers, etc.
Referance Specimen Sets for Indirect Verification are certified by DAkkS and include 5 identical specimens.. 
The Testing Machines are supplied complete with safety cabin, izod striker charpy impact strikers (with an 2 mm radius and 4 mm radius) and a tongs for centering
charpy specimens
---
Charpy Izod Impact Testers – MAIN FEATURES
Available capacities for Charpy and Izod testing are: 150J, 300J, 450J
Fast response electromagnetic clutch mechanism.
Ergonomic use of control unit and cabin door.
Clearance between supports of 40 mm,
Nominal fall angle is 150 degree,
Suitable for specimens of 10 x 10 x 55 mm
Cabin door sensitive automatic testing mode that enables the fast and continuous testing and manual mode for more control for the operator.
Highly senstive encoder to take the angle readings for every position of the hammer and to capture the very peak point of the rise angle.
Direct verification menu to verify the losses and calculate the error as described in the standards (air resistance, bearing resistance, etc.).
---
Charpy Izod Impact Testers – Main Accessories
Full close Aluminium alloy safe cabin
Pendulum (300 Joule capacity),
Specimen centering plate (U, V)
Anchor bolts
Safety closure
---
Charpy Izod Impact Testers  –  Optional Accessories
ASTM E23 striking edge (R8mm),
Self centering tong for setting charpy test specimen
Anvils and pendulums for Charpy, Izod and tensile impact testing,
Temperature Chamber for impact specimen,
Notch Cutter for impact specimen
Low Temperature Freezers for impact specimen
| | |
| --- | --- |
| Max. Absorbed Impact Energy (J) | 150 . 300 , 450 |
| Raised Angle | ≈ 150° |
| Max. Impact Speed (m/s) | 5,25 |
| Standard span (mm) | 40 |
| Size of specimen (mm) | 10 x 10 x 55 |
| Power supply | 1phs, 220V, 60Hz |
| Overall Dimensions | 2200x950x2100 mm |
| Weight ( approx. ) | ≈ 800 kg |