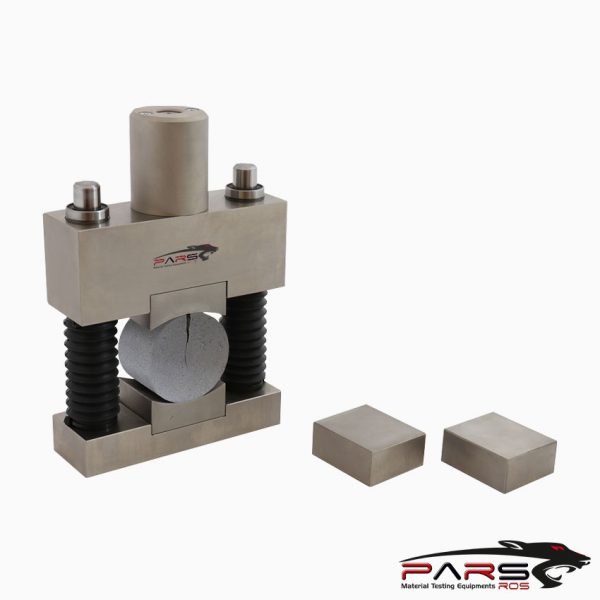 ASTM D3967 – Splitting Tensile Strength of Intact Rock Core Specimens
ASTM D3967 – This test method covers testing apparatus, specimen preparation, and testing procedures for determining the splitting tensile strength of rock by
diametral line compression of disk shape specimens.
Bilgi Almak İçin Lütfen Bizimle İletişime Geçiniz 
Açıklama
TEKNİK ÖZELLİKLER
Açıklama
ASTM D3967 – Standard Test Method for Splitting Tensile Strength of Intact Rock Core Specimens
ASTM D3967 – This test method covers testing apparatus, specimen preparation, and testing procedures for determining the splitting tensile strength of rock by
diametral line compression of disk shape specimens.
NOTE 1: The tensile strength of rock determined by tests other than the straight pull test is designated as the "indirect" tensile strength and, specifically,
the value obtained in Section 9 of this test is termed the "splitting" tensile strength.
---
ASTM D3967 – Significance and Use
By definition the tensile strength is obtained by the direct tensile test. However, the direct tensile test is difficult and expensive for routine application.
The splitting tensile test appears to offer a desirable alternative, because it is much simpler and inexpensive. Furthermore, engineers involved in rock mechanics
design usually deal with complicated stress fields, including various combinations of compressive and tensile stress fields.
Under such conditions, the tensile strength should be obtained with the presence of compressive stresses to be representative of the field conditions.
The splitting tensile strength test is one of the simplest tests in which such stress fields occur.
Also, by testing across different diametrical directions, possible variations in tensile strength for anisotropic rocks can be determined.
Since it is widely used in practice, a uniform test method is needed for data to be comparable.
A uniform test is also needed to make sure that the disk specimens break diametrically due to tensile stresses perpendicular to the loading diameter.
*** Before conducting ASTM D3967 , it is important to read the entire specification. Standards can be obtained from appropriate standard authorities
---
Referenced Documents
ASTM Standards
ASTM D653 Terminology Relating to Soil, Rock, and Contained Fluids
ASTM D2216 Test Methods for Laboratory Determination of Water (Moisture) Content of Soil and Rock by Mass
ASTM D3740 Practice for Minimum Requirements for Agencies Engaged in Testing and/or Inspection of Soil and Rock as Used in Engineering Design and Construction
ASTM D6026 Practice for Using Significant Digits in Geotechnical Data
ASTM E4 Practices for Force Verification of Testing Machines
ASTM E691 Practice for Conducting an Interlaboratory Study to Determine the Precision of a Test Method
ASTM E2586 Practice for Calculating and Using Basic Statistics
***PARSROS  offers several types of grips and fixtures which will enable you to perform a variety of tests  that are
accurate and repeatable.
Teknik Detaylar İçin Lütfen Bizimle İletişime Geçiniz
Please contact with our engineers so that we can find and offer  Best Universal Tensile Test Machines , Grips , Jaws and Other Accessories for your operations