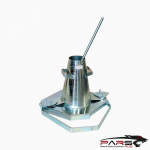 Slump Test Set , ASTM
STANDARDS : ASTM C143; AASHTO T119
Slump Test Method is used for the determination of the consistency and workability of fresh concrete
Please Contact With Us For More Information
Description
TECHNICAL SPECIFICATIONS
Description
| | |
| --- | --- |
| Product Code | Product Description |
| PRS-BSTS0510A | Slump Test Set , ASTM |
| PRS-BSTS0512A | Slump Cone , Seemless Spun Metal, ASTM |
| PRS-BSTS0514A | Aluminium Base Plate with Clamps and Measuring Bridge |
| PRS-BSTS0516A | Slump Cone Funnel, Seemless Spun Steel |
| PRS-BTR16600A | Tamping Rod Ø 16×600 mm |
| PRS-BTR10300A | Tamping Rod Ø 10×300 mm |
| PRS-BRM05118A | Scoop, Flat Bottom, 24 oz. |
| PRS-BRM05119A | Scoop, cast aluminum, 38 oz. |
Slump Test Set , ASTM
STANDARDS : ASTM C143; AASHTO T119
Slump  Set is used for the determination of the consistency and workability of fresh concrete.
---
The Slump Test Set (  ASTM ) are supplied complete with;
Slump Cone, Seemless spun metal
Aluminium Base Plate with clamps and measuring bridge
Tamping Rod, Graduated
Scoop, cast aluminum 38oz.
*** Slump Cone Funnel, made of seemless spun steel, should be ordered separately.
| | |
| --- | --- |
| Dimensions | 550x600x250 mm (packed) |
| Weight (approx.) | 10,4 kg |