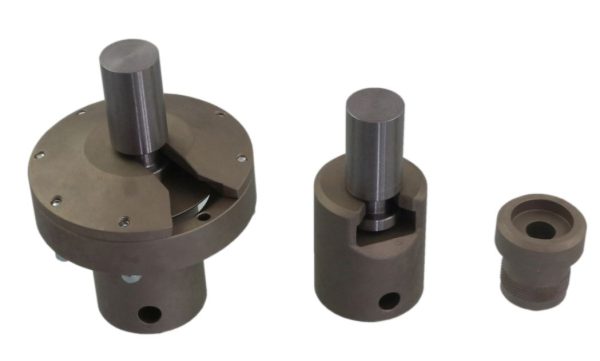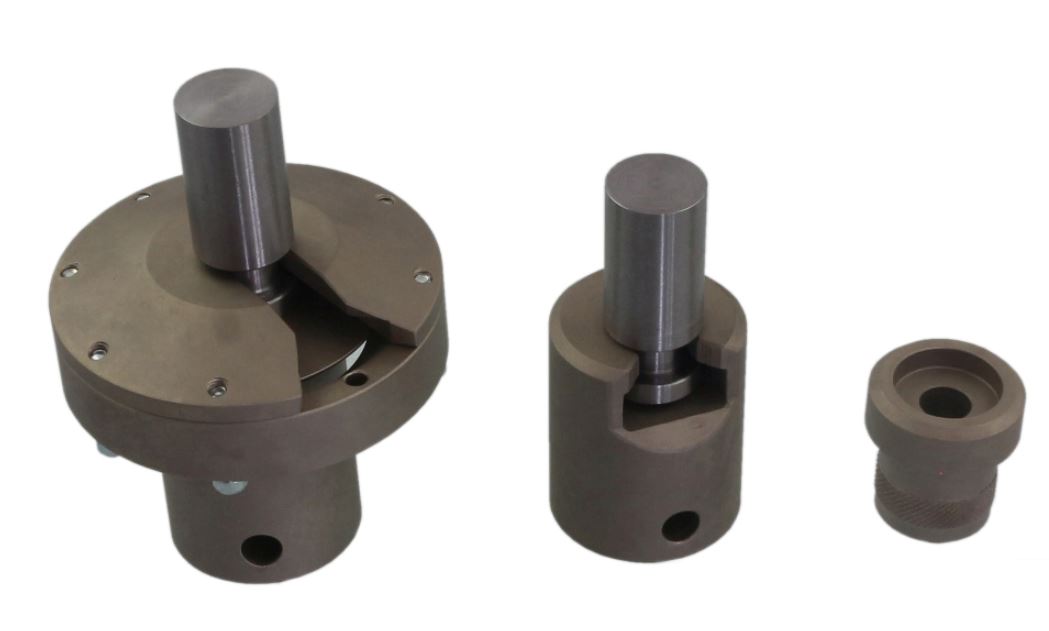 EN ISO 4624 Test Fixture
EN ISO 4624 specifies three methods (i.e. one dolly or two dollies on a painted panel and two dollies, one as painted substrate) for determining the adhesion
by carrying out a pull-off test on a single coating or a multi-coat system of paint, varnish or related product.
Please Contact With Us For More Information
Description
TECHNICAL SPECIFICATIONS
Description
EN ISO 4624   Paints and Varnishes – Pull-off Test for Adhesion
EN ISO 4624 specifies three methods (i.e. one dolly or two dollies on a painted panel and two dollies, one as painted substrate) for determining the adhesion
by carrying out a pull-off test on a single coating or a multi-coat system of paint, varnish or related product.
These test methods have been found useful in comparing the adhesion behaviour of different coatings.
It is most useful in providing relative ratings for a series of coated panels exhibiting significant differences in adhesion.
The test may be applied using a wide range of substrates.
Different procedures are given according to whether the substrate is deformable, for example thin metal, plastics and wood, or rigid, for example thick concrete and
metal plates.
To avoid distortion of the substrate during the tensile test, it is common to use a sandwich construction.
For example, for special purposes, the coating may be applied directly to the face of a test dolly.
---
Apparatus
EN ISO 4624 Tensile Tester
It is suitable for carrying out the chosen procedure spec.
The tensile stress shall be applied in a direction perpendicular to the plane of the coated substrate and shall be increased at a substantially uniform rate,
not greater than 1 MPa/s1) such that failure of the test assembly occurs within 90 s .
Other types of pull-off adhesion testers (mechanically, pneumatically, hydraulically or hand-driven) may be used provided that they give similar results.
The type of instrument shall be reported in the test report, because hand-driven/mechanical/hydraulic instruments are reported to produce widely different results.
NOTE : The results can be influenced by the test assembly used. Furthermore, the results are not reproducible unless coaxial alignment of the tensile forces is ensured.
---
Test Dollies, each consisting of a steel or aluminium cylindrical-faced testing body, specifically designed to be used with the tensile tester.
Each dolly has a rigid, flat face for bonding the adhesive/coating at one end and a facility for connecting the pull-off tester at the other.
Each dolly has a nominal diameter of 20 mm and sufficient thickness to ensure freedom from distortion during the test.
It is recommended that the length of each dolly is not less than half its diameter.
The faces of each dolly shall be machined perpendicular to its axis before use.
Dollies with a diameter of, for example, 7 mm may be used when the method for testing adhesion from one side only is used and when there is a danger of distortion
of the substrate.
If dollies smaller in diameter are used, more measurements shall be made to improve the precision.
When using 7 mm dollies, 10 measurements have been shown to be practicable.
The diameter of the dollies shall be reported in the test report.
*** Before conducting  EN ISO 4624 , it is important to read the entire specification. Standards can be obtained from appropriate standard authorities.
PARSROS  offers several types of grips and fixtures which will enable you to perform a variety of tests
  that are accurate and repeatable.
Please Contact  with our engineers so that we can find and offer  Best Universal Tensile Test Machines , Grips , Jaws and Other Accessories for your operations