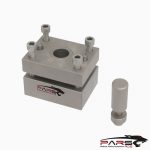 ASTM D732 – Standard Test Method for Shear Strength of Plastics by Punch Tool
ASTM D732 – Shear Punch Tool
ASTM D732  – This test method covers the procedure for determining the shear strength of plastics in the form of sheets, plates, and molded shapes in
thicknesses from 1.27 to 12.7 mm (0.050 to 0.500 in.).
Please Contact With Us For More Information
Description
TECHNICAL SPECIFICATIONS
Description
ASTM D732 – Standard Test Method for Shear Strength of Plastics by Punch Tool
ASTM D732 – Shear Punch Tool
ASTM D732  – This test method covers the procedure for determining the shear strength of plastics in the form of sheets, plates, and molded shapes in
thicknesses from 1.27 to 12.7 mm (0.050 to 0.500 in.).
---
Significance and Use
Shear strength obtained by the use of punch-type tooling is one of the recognized methods of comparing materials, or obtaining data for engineering design
purposes,or both.
However, it must be recognized that for end-use applications there are likely to be many factors not taken into account in this test method, such as
stress-concentrating geometries and rates of shear, which can profoundly affect the measured shear strength.
Moreover, the fact that the shear strength is calculated by dividing the load by the area of the sheared edge (punch circumference X specimen thickness)
does not interpret as indicating the shear strength value so obtained is solely a material property, independent of thickness.
The shear strength of plastics by a punch tool is one of the easier to set up shear tests.
Plastic film or sheet manufacturers will often investigate the shear strength as it relates to compressive loads on their products.
This test can also be used to test polycarbonates which are used as lens material in sunglasses.
---
Geometry
Samples can either be square or circular.
An 11mm diameter hole is punched out of the center of the specimen. 5 specimens are usually tested at a time in order to create a more uniform test result.
The punch tool will make a 1 inch hole in the sample by shearing it against two pieces of metal.
This apparatus is similar to a puncture fixture.
The shear strength is given by the load divided by the surface area of the sheared surface.
Thicknesses of .25 to .5 inch are common, and technicians will often stack multiple sheets on top of each other to reach a desired thickness.
The shear strength is calulcated by dividing the max shearing load by the total area of sheared edge.
Total area is calculated using total thickness of the specimens and also the circumference give by pi*diameter(1″).
The units are give in pounds per square inch or by megapascals.
***PARSROS  offers several types of grips and fixtures which will enable you to perform a variety of tests  that are accurate and repeatable.
Please contact with our engineers so that we can find and offer  Best Universal Tensile Test Machines , Grips , Jaws and Other Accessories for your operations