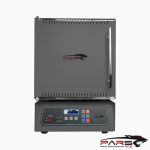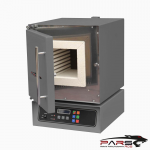 Muffle Furnaces
STANDARDS:  TS EN 196-2, 196-21,459-2
Muffle Furnaces are widely used for determining various properties of construction materials They cover a temperature range from 1100°C to 1600°C
Please Contact With Us For More Information
Description
TECHNICAL SPECIFICATIONS
Description
| | |
| --- | --- |
| Product Code | Product Description |
| PRS-DMFUR80 | Muffle Furnace 3 lt. 1000°C, 220-240 V 50-60 Hz |
| PRS-DMFUR85 | Muffle Furnace 6 lt. 1100°C, 220-240 V 50-60 Hz |
| PRS-DMFUR90 | Muffle Furnace 5 lt. 1200°C, 220-240 V 50-60 Hz |
| PRS-DMFUR92 | Muffle Furnace 5 lt. 1200°C Programmable Timer, 220-240 V 50-60 |
| PRS-DMFUR95 | Muffle Furnace 5 lt. 1600°C, 380 V 50 Hz |
Muffle Furnaces
STANDARDS:  TS EN 196-2, 196-21,459-2
Muffle Furnaces are widely used for determining various properties of construction materials They cover a temperature range from 1100°C to 1600°C,
They are all front loading for easy operation and are of a double skin construction to maintain a cool outer case.
Up to 1300°C, open wire based models are also produced.
Excellent temperature control is provided by a PID digital control system.
A vertical counter balanced door keeps the hot insulation away from the operator which opens in an upward movement.
The Furnace has a safety switch which isolates the power when the door is opened.
| | | | | | |
| --- | --- | --- | --- | --- | --- |
|  Product Code | PRS-DMFUR80 | PRS-DMFUR85 | PRS-DMFUR90 | PRS-DMFUR92 | PRS-DMFUR95 |
| Max.Temperature | 1000 °C | 1100 °C | 1200 °C | 1200 °C | 1600 °C |
| Max. Continuous Temperature | 950 °C | 1050 °C | 1150 °C | 1150 °C | 1550 °C |
| Temperature Deviation at Set Point | ± 2°C | ± 2°C | ± 2°C | ± 2°C | ± 2°C |
| Heat Up Time to Max. Temperature | 50 min | 65 min. | 50 min. | 50 min. | 75 min. |
| Internal Volume | 2.7 L | 6.3 L | 5 L | 5 L | 5 L |
| Phase | 1 | 1 | 1 | 1 | 3 |
| | | | | | |
| --- | --- | --- | --- | --- | --- |
| Product Code   | PRS-DMFUR80 | PRS-DMFUR85 | PRS-DMFUR90 | PRS-DMFUR92 | PRS-DMFUR95 |
| Internal Dimensions | 100x135x200 mm | 150x210x200 mm | 140x180x200 mm | 140x180x200 mm | 140x150x240 mm |
| External Dimensions | 425x320x360 mm | 650x550x580 mm | 650x550x580 mm | 650x550x580 mm | 650x550x580 mm |
| Weight (approx.) | 20 kg | 56 kg | 56 kg | 56 kg | 65 kg |
| Power | 2000 W | 1500 W | 2000 W | 2000 W | 4900 W |